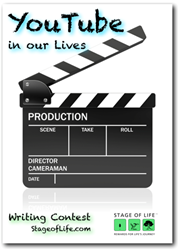 Chicago, IL (PRWEB) August 31, 2014
Teen blogging community, StageofLife.com, asked thousands of junior high, high school, and college students about the importance of YouTube in their lives as part of its monthly international writing contests and teen poll.
The student survey results revealed the following statistics about teenagers and YouTube:
–49% of teens have uploaded a video to YouTube.
–33% of teens who answered "yes" to uploading a video have submitted one video, 48.7% of teens have uploaded 2-5 videos, and 5% of students have uploaded more than 26 videos to YouTube.
–77% of teenagers subscribe to a YouTube channel. For those students that subscribe to a YouTube channel, 1 out of 3 teenagers subscribe to a channel in the "Music" and "Popular on YouTube" channel categories. The least popular YouTube channel categories for teen subscriptions are "Sports" and "Movies".
–63.5% of teenagers watch YouTube daily with 34% watching multiple times per day.
–37.4% of teens have clicked on a YouTube advertisement while watching a video.
–64% of teens have shared a YouTube video on Facebook, Twitter or other social media.
–1 out of 2 teens primarily watch YouTube to laugh and be entertained with funny content vs. 18.5% who watch primarily to learn new skills or be educated and 31% who watch primarily to stay up to date on the latest music and entertainment from their favorite artists.
–75% of teens seek advice through YouTube channels / videos on topics important to their daily lives, e.g. relationships/dating, teen trends, advice on how to do new skills such as creating new hairstyles, etc.
–80% of teens have high school teachers or college instructors who use YouTube for educational purposes in the classroom. 20% of teens indicate that YouTube is not used by their teachers (12%) or is not allowed in their school (8%).
–YouTube in our World82.4% of teenagers have shared a YouTube video with their parents.
–27% of teens are "Not Aware" of YouTube's copyright laws.
–71% of students say YouTube influences our culture a "great deal" verses less than 1% who say "not at all"
–16.6% of teenagers say finding success on YouTube is "very easy" vs. 44.5% who say it's "somewhat easy" and 39% who say it's "not easy at all."
–91.4% of teens feel that, overall, YouTube is a "positive" part of our society.
Over 4,700 students visited the essay and survey page about YouTube and hundreds of teen bloggers submitted a personal essay to StageofLife.com sharing their thoughts about the role of YouTube in today's society.
The winning 1st place student essay, YouTube: Exploration, Inspiration, Manifestation, Creation was submitted by Philip Kim from Paramus, NJ. When asked about the writing contest, Kim said "I love writing because it gives me a medium to translate my ideas into comprehensible form. In this age of texting, emails, and the like, writing allows me to connect with people at a deeper level."
Stage of Life also selected a winner from its Short Short Story Twitter contest which tied into the graduation writing prompt. The winning entry came from @realslimfaydy who Tweeted, "I see music and hear faces of people from around the world, unimaginable in years past. The world is in my fingertips."
Winners from the writing and Twitter contests received gift cards from StageofLife.com educational corporate sponsors Applebee's, IHOP, Papa John's, and SpaWeek.com.
To read all of the essays and download the full Teen YouTube Statistics report on this and other monthly writing contests and teen trends, visit StageofLife.com.
StageofLife.com is a privately funded, startup company founded in 2009. The website's mission is to change the world, one story at a time. The site welcomes nearly 1,000,000 teens, teachers and parents each year as it provides an international writing community and resources for today's teen, Millennial, Gen X, and Baby Boomer generations.
Find More Entertainment Press Releases